Outstanding Teacher in Agriculture 
Each year, we recognize a BC teacher who has been a champion in agriculture education.  If you would like to nominate a teacher for the 2020 Outstanding Teacher in Agriculture Award, please fill out our application form and send it to us before November 1. Find more details on the call for nominations for the 2020 Outstanding Teacher in Agriculture Award here.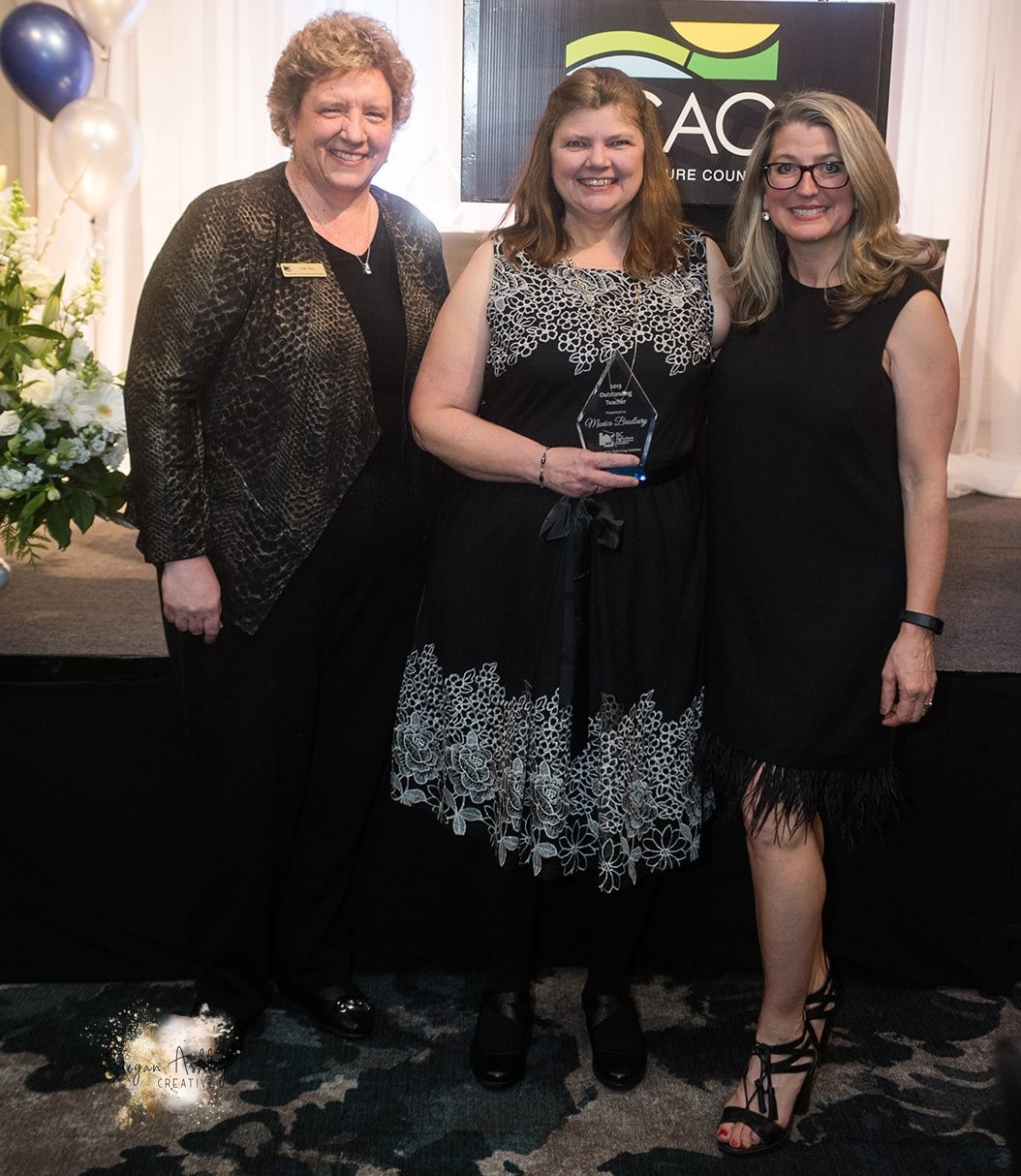 From left to right: Pat Tonn, Executive Director of BCAITC, Outstanding Teacher Monica Bradbury, and BC Minister of Agriculture, Hon. Lana Popham.
2019 Outstanding Teacher - Monica Bradbury
A home economics teacher at Ballenas Secondary School in Parksville, Monica Bradbury educates her students on the ecology of food while encompassing food literacy, food miles, and food sustainability. For the past year, Monica has also enthusiastically taken on the role of a BCAITC Teacher Ambassador, providing other teachers on Vancouver Island with education on agriculture and connecting them with BCAITC resources and programs.
With a Masters in Education and 30 years of teaching experience educating over 5,000 students, Monica brings a wealth of knowledge in the areas of food science and curriculum development. She also has a strong connection to her local farming community. Monica is deeply passionate about exposing students and teachers to agriculture, especially in making connections between the food we eat, who produces it, and where it comes from. She believes in getting her students out of the classroom and into the community to meet, tour, and work with local farmers, as well as bringing a farm environment her school.
Monica works with local farms to bring students onto the farms to learn directly from farmers; the students help plant on the farms and purchase foods at market stands to bring back and cook in the classroom. Monica also developed and designed a productive school courtyard garden, a native plant garden, and has taught students to work with foods in season and how to preserve foods. She is currently building an environment club at her school that concentrates on reducing food waste. Also, each year she invites the Poultry in Motion program to the school and encourages classes to participate.  
The 2019 Outstanding Teacher of the Year Award was generously sponsored by Dairy-Crop Solutions.
Previous Outstanding Teacher of the Year Award Recipients
2018 - Chef Brian Smith
2017 - Tania Toth
2016 - Karla Stroet
2015 - Patricia Regan
2014 - Joe Massie
2013 - Chef Gerald Worobetz
2012 - Lori Pilling
2011 - Gail Chan and Chef Randle
BC Regional Science Fair Awards 
To highlight the connection between agriculture and science, BCAITC supports the Science Fair Foundation of British Columbia. Each year, we contribute 13 regional science fair awards for outstanding projects that demonstrate the practical application of scientific principles to agriculture.
2020 Award Winners by Region
Vancouver Island: Beata for "1, 2, 3, Grow!"
Vancouver Island: Malek for "1, 2, 3, Grow!"
Greater Vancouver: Jonathan for "A New Method of Health Assessment for Prunus cerasifera 'Atropurpurea' on a Neighbourhood Scale in Vancouver"
Northern BC: Kanna for "Germination Station"
Pacific Northwest: Sacha for "The Spread of the Invasive Yellow Floating Heart"
Pacific Northwest: Lucia for "The Spread of the Invasive Yellow Floating Heart"
Fraser Valley: Priyam for "The War Against Waste"
Visit the Science Fair Foundation BC for more information on BC science fairs and awards, student resources, and the Science Fair Mentorship Program.