2018 Outstanding Teacher in Agriculture!
We are pleased to announce Brian Smith as the recipient of the 2018 BCAITC Outstanding Teacher Award. The award was presented to Brian for demonstrating outstanding leadership and innovation in agriculture education.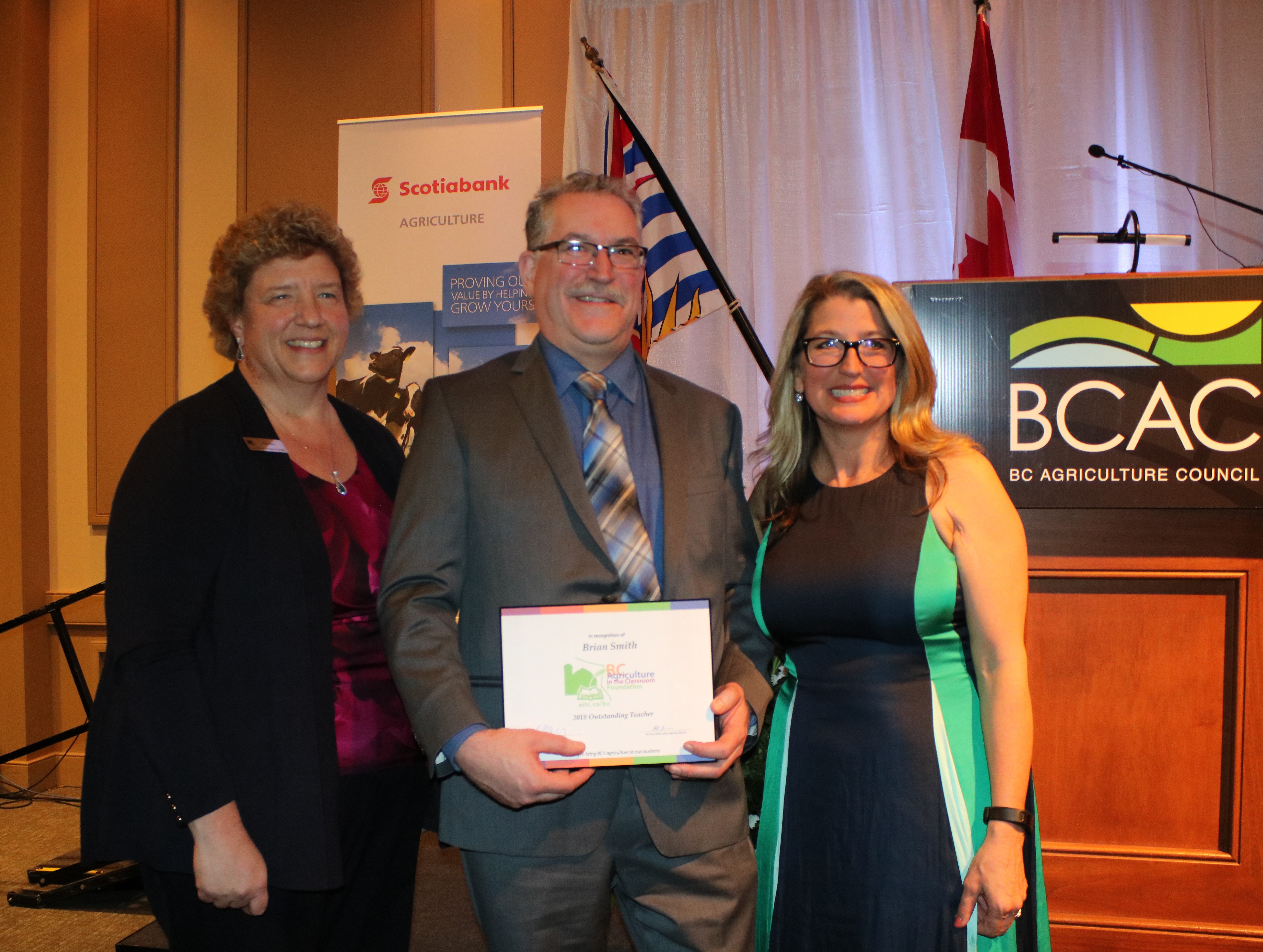 From left to right: Pat Tonn, Executive Director of BCAITC, Outstanding Teacher Chef Brian Smith, BC Agriculture Minister Lana Popham
Each year BC Agriculture in the Classroom acknowledges a teacher that is an ambassador for agriculture education. They are leaders in agriculture professional development for teachers, initiators of school agricultural projects, lessons, and initiatives. They are people who make it a priority for their students to learn about food and farming in our province.   
A Culinary Arts Instructor at Thomas Haney Secondary in Maple Ridge, Brian Smith has been instrumental in promoting the Take a Bite of BC and the BC School Fruit and Vegetable Nutritional (BCSFVNP) programs to staff and students at his school. Both are programs that share a message that is near and dear to his heart – promoting BC's agriculture. 
As an ambassador for Take a Bite of BC, Brian is thankful for the tremendous product farmers send to the teaching kitchens, which gives him and his students the opportunity to cook with and discuss the benefits of BC grown. His students boast that they make food in the school cafeteria that could be served at a gourmet restaurant. 
Outside of the classroom, Brian has been a champion for BC agriculture on a number of provincial platforms. First, during his term as President of BC's Chef Instructor Association, and as a curriculum writer in Victoria. He was directly responsible for including BC Agriculture in the new Ministry of Education BC Culinary Arts curriculum for grades 10, 11 and 12. Brian has also led a number of BCAITC's successful fundraisers that have allowed Take a Bite of BC and other programs to grow and expand.
"Brian has spent years promoting and highlighting local agriculture both inside and outside of his classroom" said colleague and BCAITC Celebrity Chef Randle. "In his teaching kitchen, he consistently works with Culinary Arts students to showcase local agriculture on a daily basis and challenges his staff and students to do the same. Brian's humble nature and dedication to agriculture and Culinary Arts education is nothing less than inspiring. I am proud to call Brian my colleague and my friend."
The award was presented to Brian at this year's Agri-Food Industry Gala by BCAITC's Executive Director, Pat Tonn. Congratulations Brian Smith!