2021 Field to Fork Challenge Results
Drumroll please! The results of the 2021 Field to Fork Challenge are in! The Field to Fork Challenge (now in its second successful year) is a collaboration of 4-H British Columbia (4-H BC) and BCAITC with the support of the BC Ministry of Agriculture, Food, and Fisheries. The Challenge connects youth, cooking, and agriculture to further farm-to-table education.
From June to September 2021, dozens of British Columbia youth entered the 2021 Field to Fork Challenge by submitting BC grown recipes and cooking videos for a chance to win cash prizes ($6,000 awarded). The Challenge was open to BC youth in 4 categories: (1) 4-H BC Junior Members, (2) 4-H BC Senior Members, (3) Grade 4-7 Students, and (4) Grade 8-12 Students. From 'West Coast Frittata' to 'Garden Fresh Pasta' to 'Sheet Pan Shrimp Boil' to 'Blueberry Crisp', Field to Fork Challenge entrants created recipes for breakfast, lunch, dinner, and dessert featuring healthy, locally grown ingredients. A panel of independent judges chose the 36 winners for their recipe selection, use of BC ingredients, evidence of thorough study, food and kitchen safety, and presentation. Check out the recap video of the 2021 Field to Fork Challenge below. 
Field to Fork Challenge Winners (see all winners' photos at bottom of page)
4-H BC Juniors
Colette S., Metchosin: Hazelnut Spread with Crepes
Safira E., Greenwood: My Favourite Omelette
Vera H., Vanderhoof: Pavlova
Juliet D., Langley BC's Best Lamb and Roast Vegetables
Summer W., Abbotsford: Obstkuchen (Platz)
Scarlett J., Williams Lake: Honey Peach Pie
Holden F., Chilliwack: Blueberry Crisp
Tessa S., Barriere: Fresh Tomato Salsa
Brooklyn C., Baynes Lake: Jambalaya
Etta S., Big Lake Ranch: Etta's Mess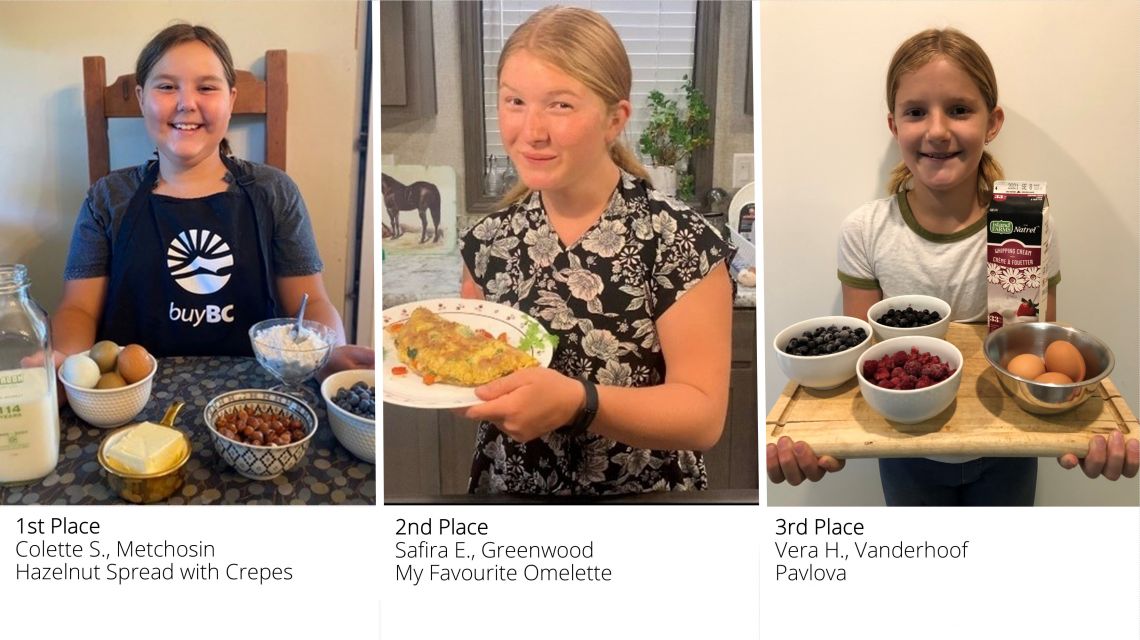 4-H BC Seniors
Sava B., Victoria: Oven Glazed Duck and Kohlrabi Fries with a Garden Salad
Casey B., Chetwynd: Carrot Soup
Reine F., Rock Creek: Swiss Chard and Beef Quiche
Lucia J., 150 Mile House: BC Grass-Fed Beef Burgers and Homemade BBQ Sauce
Laura H., Prince George: BC Vegetable and Rice Stir Fry
Natalie V., Burnaby: Garden Fresh Pasta
Jacques J., Saanichton, Frangipani Fruit Tart
Riley K. Kamloops: Lemon Dill Lamb Kabobs with Tzatziki
Mac D., Langley: BC Blueberry Skillet Cake

Ella C., Williams Lake: Sheet Pan Shrimp Boil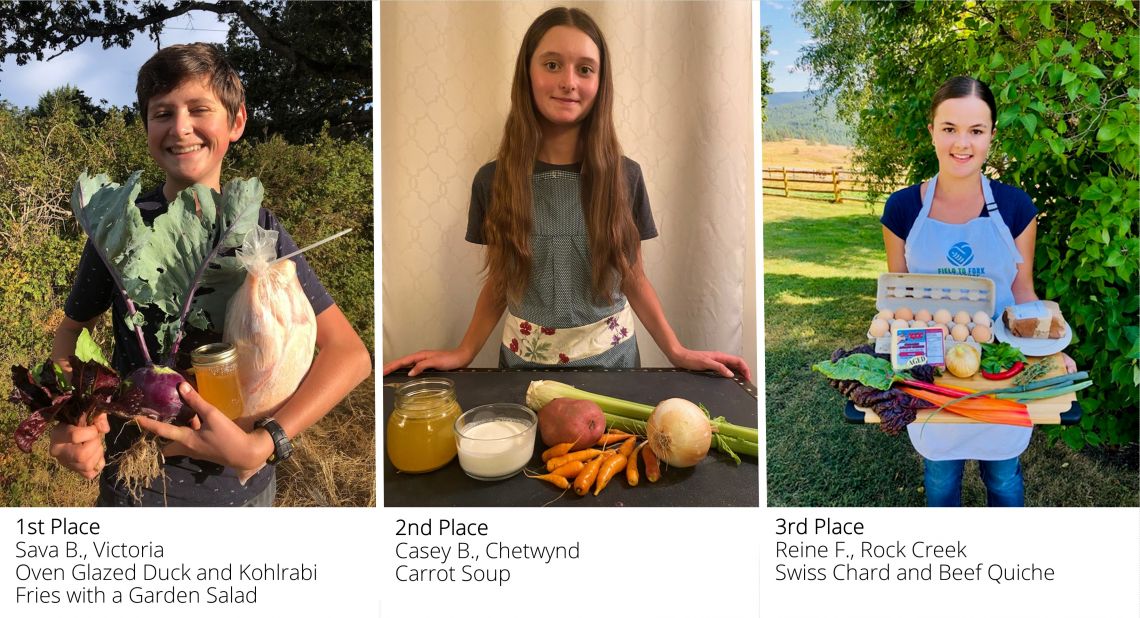 Grade 4-7 Students
Valentina Z., Surrey: Greek Bifteki with Roasted Potatoes and Baked Cinnamon Apples
Nicky E., Pitt Meadows: Pear-Cranberry Upside-Down Cake
Dahlia B., Sooke: West Coast Frittata
Emie R., Kelowna: Grandma's Plum Coffee Cake
Natalia D., Langley: Natalia's Gourmet Grilled Cheese
Penny W., Kelowna: Garden Frittata
Piper G., Surrey: Grape Jelly and Quick Bread
Marcel M., Kelowna: Sharlotka Apple Cake
Kiera C., Kelowna: BC Veggie Mania Spaghetti Sauce
Yuka M., Vancouver: BC Raspberry Clafoutis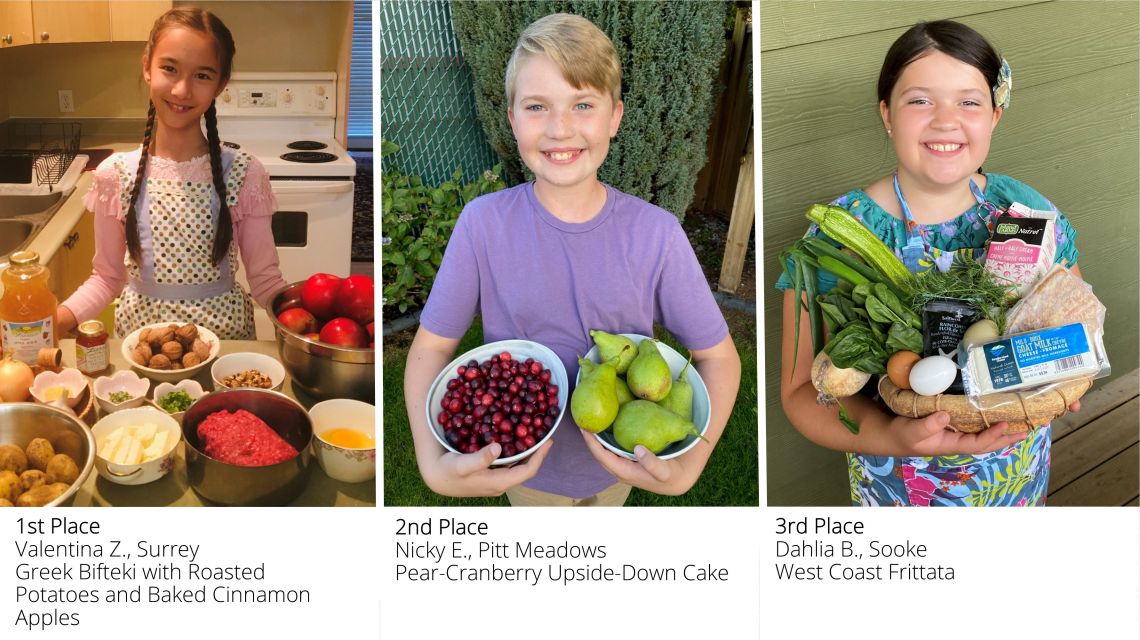 Grade 8-12 Students
Jared W., Kelowna: Pork Steak with Potatoes and Homemade Caesar Salad
Avery Y., Kelowna: Cajun Salmon with Apple Bacon Brussel Sprouts and Garlic Aioli
Jazmine J., Port Moody: Cream Cheese Lemon Bars
Ariel K., Vancouver: BC Heirloom Tomato Tart with Roasted Garlic Whipped Goat Cheese
Federica Z, Creamy Spinach Artichoke Tortellini, Vancouver
Cecilia V., Maple Ridge: Chocolate Cake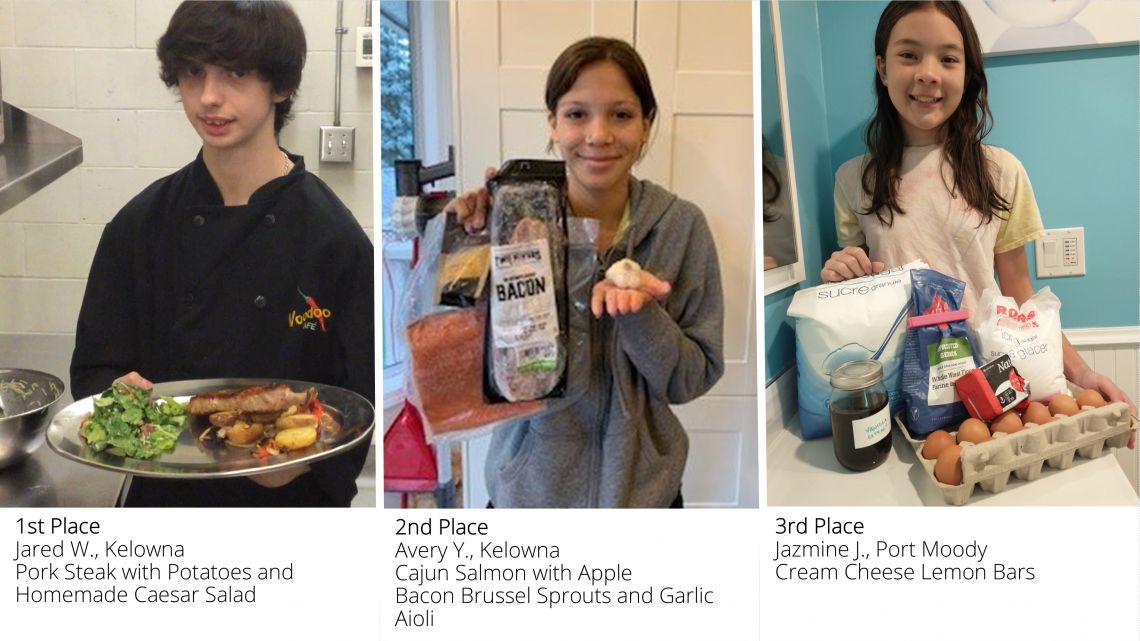 In addition to winning cash prizes, Field to Fork Challenge winners will have the opportunity to attend the virtual Field to Fork Virtual 2021 Conference on November 13, 2021. From the comfort of their own kitchens, event attendees will learn from BC farmers about chicken, honey, and hazelnut farming and what it takes to bring these foods from farm to table. Attendees will participate in activities like honey tasting and hazelnut trivia, and watch educational farm videos. The highlight of the incredible full-day conference will be the online cooking lessons with BCAITC's Chef Trevor Randle. Winners will receive expert instructions as they cook a delicious homegrown meal including:
Main: Honey Mustard Chicken with Goat Cheese, Prosciutto Ham, and Balsamic Jus served with BC Hazelnut and Basil Pesto
Sides: BC Potato Purée, Sautéed BC Carrots, and Kale Salad
Dessert: Chocolate Pudding with BC Honey Candied Hazelnuts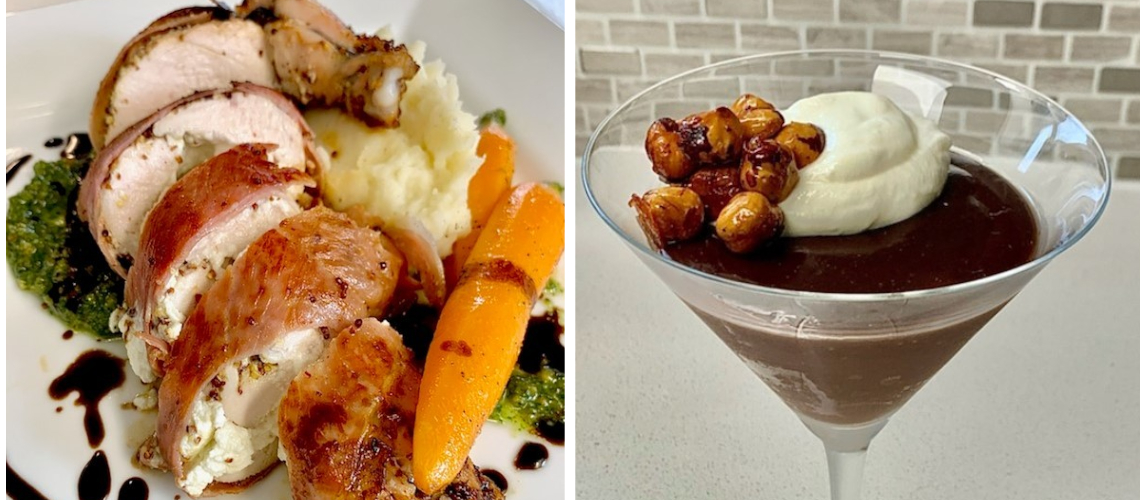 Field to Fork Challenge winners will also have the incredible opportunity to have their winning recipes published! The recipes will be available in the 2nd Field to Fork Challenge Cookbook, available in print (limited quantities) and free online at www.4hbc.ca and here on www.bcaitc.ca starting in mid-December.
"The calibre of recipes submitted for this year's challenge was outstanding," said Aleda Welch, 4-H BC Manager. "It was difficult for the judges to choose the winning recipes as so many incredible submissions were received. We thank all youth who entered and congratulate all the winners."
Pat Tonn, BCAITC Executive Director, echoed Aleda's thoughts, "The recipes and videos that were submitted were fun and creative. They not only spotlighted BC ingredients, but also showcased each young cook's personal food stories. From baking with local blueberries, to grilling with BC shellfish, to cooking with grass-fed beef, the entries illustrate a variety of food passions."
Lana Popham, BC Minister of Agriculture, Food, and Fisheries, said, "I'm delighted to congratulate all our young budding chefs and leaders who took on this year's Field to Fork Challenge. All the amazing entries made it a difficult job for the judging panelists! Thank you all for showing us many more wonderful dishes we can make with ingredients directly sourced or grown in B.C. I look forward to sharing and serving them to family and friends!"

Thank you to the supporters that helped make the Field to Fork Challenge possible: BC Chicken Marketing Board, BC Hazelnut Growers Association, Paragon Farms, Campbell's Gold Honey Farm & Meadery, Van Maren Farms, and farmers Dale Krahn, Judy Campbell, and Cornel Van Maren.
All Winners