On Point with Pat: AITC Christmas Message
Warm greetings as we celebrate the gifts of family, good friends, healthy food and holiday cheer!
We are happy to celebrate another year of growth with each of our programs and on our educational resource shelf, as well as new adventures with BC agriculture in the Classroom. We are hiring a Program Operations Manager to work on our team to assist with the organizational growth and program delivery. The posting is on our website and closes on December 14th. Please share this job opportunity with those who are qualified and interested.
We are grateful for our sustaining donors, partners and sponsors that provide financial contributions that assist us in meeting our mission: Working to bring BC's Agriculture to our students.
This is a picture of the sources of our funding: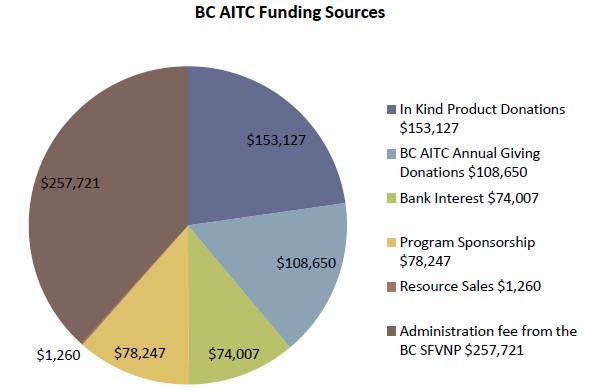 Each year we build on our foundational programs and add new teacher resources and student learning experiences within our means. This is a picture of our use of resources: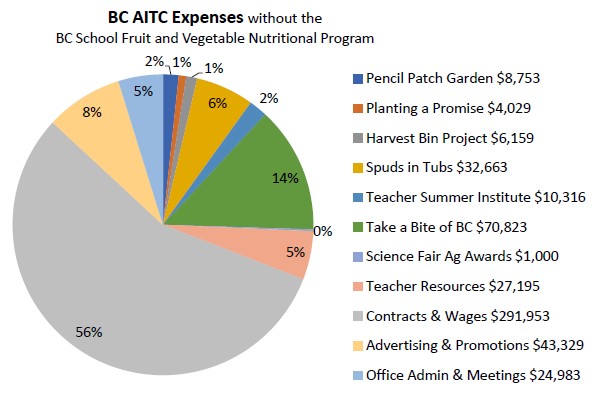 This year we have developed and distributed new educational resources with BC Landscape & Nursery Association on pollinators called Plant Something Bee Friendly. We partnered with BC Greenhouse Association to do greenhouse tours with over 800 students and teachers to learn about the science, technology and career opportunities in the greenhouse sector as a part of BC Greenhouse Veggie Days. New teacher professional days and introduction to the BC shellfish industry with our celebrity Chef Trevor Randle. New Canadian careers in agriculture resources and Snap AG (snapshot on agricultural challenges) resources have been developed in partnership with Agriculture in the Classroom Canada.
We also focused on administrative efficiencies within the organization. All of our programs are now available for online application and our website has a new look and is a more modern and user-friendly portal.
Thank you to our partners and donors who have given us insightful ideas this year through our surveys and cooperative work. The BC School Fruit and Vegetable Nutritional Program, +Milk, has undergone an extensive evaluation in order to be able to report on its successes and recognize areas for improvement. We have completed an in-depth review of our communications activities through the development of communications strategy for the next few years and we have reviewed our human resources and looked at opportunities for change and efficiency. Our organization is excited to move forward anticipating change and new opportunities together with the agriculture industry.
From all of us at AITC, we wish you and your families the joy of the holiday season!
Pat Tonn, Executive Director