Connecting Students to Agriculture — On the Farm! 
Farming is a business, but it's also a way of life that affects all of us at home and within our communities. Taking your classroom to a farm gives your students a firsthand glimpse into our province's food suppliers and what it means to be a farmer, the multifaceted role a farmer plays as steward of the land, and what's involved in caring for livestock. It's also a chance to get up close to some pretty cool machines. Many farms in BC open their gates and barns for tours, and each one offers a unique and fun experience for students.
To find a farm tour or agricultural field trip near you, locate your region on the map, then see the corresponding list of tours and trips in that area. Rates vary where applicable.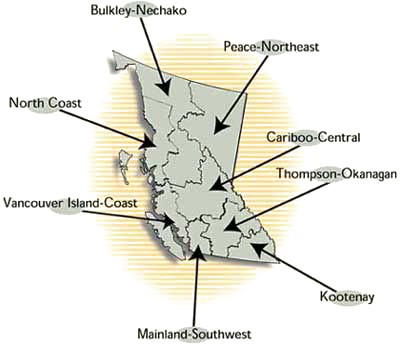 Find a Farm Tour Close to You  
Mainland-Southwest 
ABBOTSFORD
AGASSIZ
ALDERGROVE
CHILLIWACK
DEWDNEY
HARRISON MILLS
LADNER
LANGLEY
MAPLE RIDGE
NORTH VANCOUVER
PEMBERTON
PITT MEADOWS
RICHMOND
SURREY
VANCOUVER
Vancouver Island-Coast 
BLACK CREEK
BRENTWOOD BAY
CHEMAINUS
COBBLE HILL
GIBSONS
LADYSMITH
 PARKSVILLE
Thompson-Okanagan 
ARMSTRONG
CLEARWATER
KELOWNA
KEREMEOS
SUMMERLAND
VERNON
Kootenay 
FORT STEELE
GRAND FORKS
Cariboo-Central 
QUESNEL
A Cautionary Note to All Farm Tour Participants 
Food-borne illness can result from close contact with farm animals. BCAITC does not review or monitor any of the farm tour facilities on this list. It is up to each farm visitor to be aware of the risks associated with visiting a farm and take the necessary precautions. To reduce the risk of any food-borne illness, be sure that all students, teachers, and volunteers wash their hands with either hand sanitizer (or sanitizing hand wipes) or warm water and soap (drying their hands with a clean paper towel) before eating at and leaving the farm.