Outstanding Teacher in Agriculture 
Each year, we recognize a BC teacher who has been a champion in agriculture education. This teacher award is presented annually at the Agri-Food Industry Gala in Abbotsford.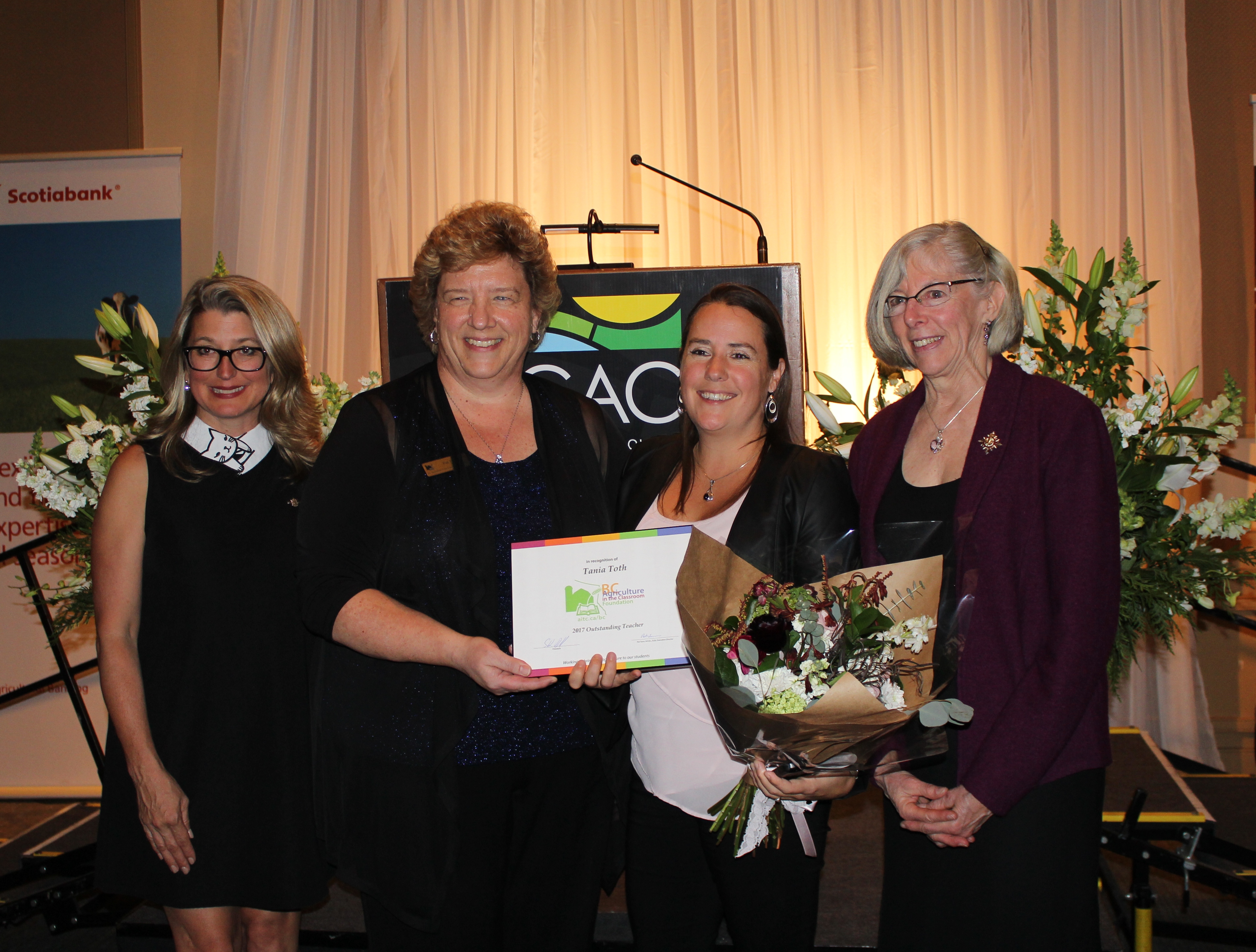 From left to right: The Honourable Lana Popham, Minister of Agriculture; Pat Tonn, Executive Director of BCAITC; Tania Toth, teacher at Sardis Secondary; the Honourable Lieutenant Governor Judy Guichon
2017 Outstanding Teacher — Tania Toth 
A science teacher at Sardis Secondary, Tania and her colleagues have transformed a piece of ALR property owned by the Chilliwack School District into a working school farm, where students from the high school can learn firsthand about growing food. Tania saw this as an opportunity to build practical applications into studies in Science and Sustainable Resources 11, as well as teach hands-on agriculture practices.
"Tania's hard work as an agriculture teacher has fostered a love for growing food in hundreds of students in Chilliwack," said BCAITC President, Joe Massie. "Her commitment to excellence and her willingness to go above and beyond the call of duty is truly inspirational to everyone around her."
2016 Outstanding Teacher — Karla Stroet 
"Karla has been one of our champion teachers — an ambassador of agriculture education, not only with her students but with her colleagues as well," said BCAITC Executive Director, Patt Tonn. "She is a teacher that uses those teachable moments to express the agriculture story. She leads by example in agriculture education and motivates other colleagues around her to do the same."
Previous recipients received the award for their work with the BC School Fruit & Vegetable Nutritional Program (BCSFVNP), Spuds in Tubs, Take a Bite of BC, school greenhouse programs, and an entire school approach to agriculture education:
2011 — Gail Chan and Chef Trevor Randle
2012 — Lori Pilling
2013 — Chef Gerald Worobetz
2014 — Joe Massie
2015 — Patricia Regan
BC Regional Science Fair Awards 
To highlight the connection between agriculture and science, BCAITC supports the Science Fair Foundation of British Columbia. Each year, we contribute 13 regional science fair awards for outstanding projects that demonstrate the practical application of scientific principles to agriculture.
2017 Award Winners by Region
Cariboo Mainline: Maria for "Grounding"
Central Interior: Alex for "Mighty Manure"
Central Okanagan: Teagan for "L'eau Pollué"
East Kootenay: Sara for "Essential Rice"
Fraser Valley: Nathan for "Hatchery"
Greater Vancouver: Kyla for "Est-ce que les plantes peuvent survivre avec du sel?"
Northern BC: "Which Seeds Do Birds Prefer?"
Northern Vancouver Island: Samuel for "A World without Bees"
Pacific Northwest: Annabelle & Olivia for "Losing Ground: Cows, Soil and Water"
South Fraser: Uma for "Soil Management in Delta: A Change and Development Project"
Vancouver Island: Tija & Jessie for "Amazing Aquaponics"
West Kootenay & Boundary: Carmen for "The Sound of Germination"
Yukon/Stikine: Victoria for "Biogas"
Visit the Science Fair Foundation BC for more information on BC science fairs and awards, student resources, and the Science Fair Mentorship Program.