The Great Canadian Farm Tour
As a part of Canadian Agriculture Literacy Month, Agriculture in the Classroom Canada (AITC-C) is inviting classrooms across the country to join us for eleven free virtual farm tours throughout the month of March! Classrooms have the opportunity to explore a maple sugar farm in Quebec, a sugar beet farm in Alberta, an egg farm right here in BC, and so much more.
Join for one – or join for all! Registration is on now!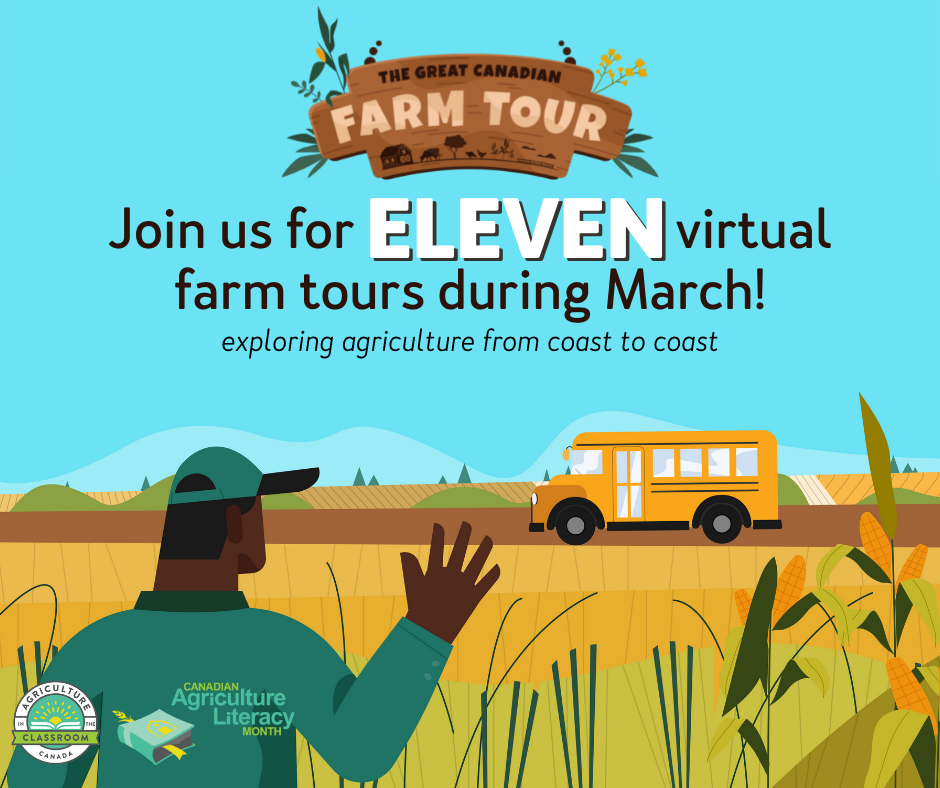 Frequently Asked Questions
What time are the tours? All tours will begin at 9:30am in the co-hosts provincial time zone (with the exception of Quebec's tour being held on March 1st following the kickoff tour with Minister Bibeau). 
How long are the tours? Each tour will be approximately 30-45 minutes with time for Q+A!
How do I watch the tours? The tours will be streamed live on YouTube.
What if my class and I can't join live? No worries! The tours will all be recorded and available for replay on the AITC-C YouTube account.
How will we ask questions? You can use the comment section to ask the producer questions during the tour and AITC-C will answer as many as they can! 
Can my students tune in from home? Yes, absolutely! As long as you share the links to the tours, your students can tune in from wherever they are learning! AITC-C will be sending a reminder email to you the day before each tour!
We all look forward to celebrating Canadian Agriculture Literacy Month on The Great Canadian Farm Tour with you and your students!