Subject
Careers
PE & Health
Sciences
Social Studies
Sustainable Agriculture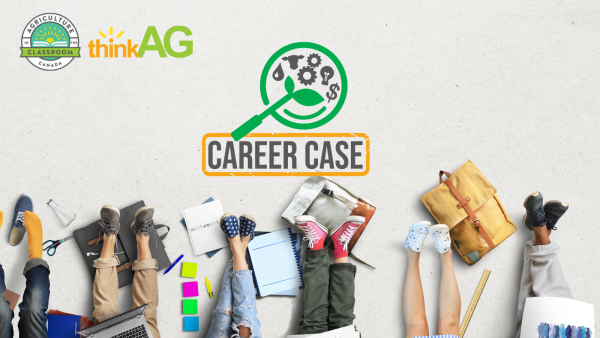 Teachers: Order your FREE Career Case game here today for delivery to your classroom by Canada Post.
The Career Case game demonstrates the diversity, variety, and importance of careers in agriculture while supporting students in recognizing how their skills and interests can fit into agriculture and food careers. Through game participation, students will increase their awareness of and interest in careers that are a part of the agriculture sector. It helps students explore their skills and interests to find purpose-driven careers in agriculture. Watch this video to learn more about Career Case. 
How it Works
The Career Case game can be played in two ways:
In-class with a teacher or guest facilitator (60-90 minutes).
Event station or brief intro to careers in agriculture (15-20 minutes).
Students are faced with a case (situation or challenge) in which they work in groups to determine the 4 or 5 careers (they can pick from 30 different career cards) to tackle/solve the presented case.
Suggested grade levels: 9-12.  Allow for longer prep, discussion time and game play for younger students.
Key Value Areas
Promotes the development of important skills necessary to fostering global citizenship, such as: decision making, leadership, listening, collaboration, teamwork, critical thinking, communicating, presenting, problem finding and solving, flexibility, creativity, and negotiation.
Engaging learning for students.
Relevant to career exploration curricula.
More Information
For more information on this resource, contact teacher@aitc.ca.