BC Youth - Enter the 2021 Field to Fork Challenge Now
Attention BC young cooks! Enter the 2nd annual Field to Fork Challenge now! Submit BC grown recipes and cooking videos for a chance to win cash prizes totalling $6,400!
Entry Categories/Deadlines
4-H BC Junior Members (born 2008-2011) – Enter June 2 to August 31, 2021
4-H BC Senior Members (born 2001-2007) – Enter June 2 to August 31, 2021
BC Junior-Level Students (grades 4-7) – Enter June 2 to September 30, 2021
BC Senior-Level Students (grades 8-12) – Enter June 2 to September 30, 2021
Winners will be selected based on recipe choices, use of BC ingredients, evidence of thorough study, food and kitchen safety, and presentation.
Register Now!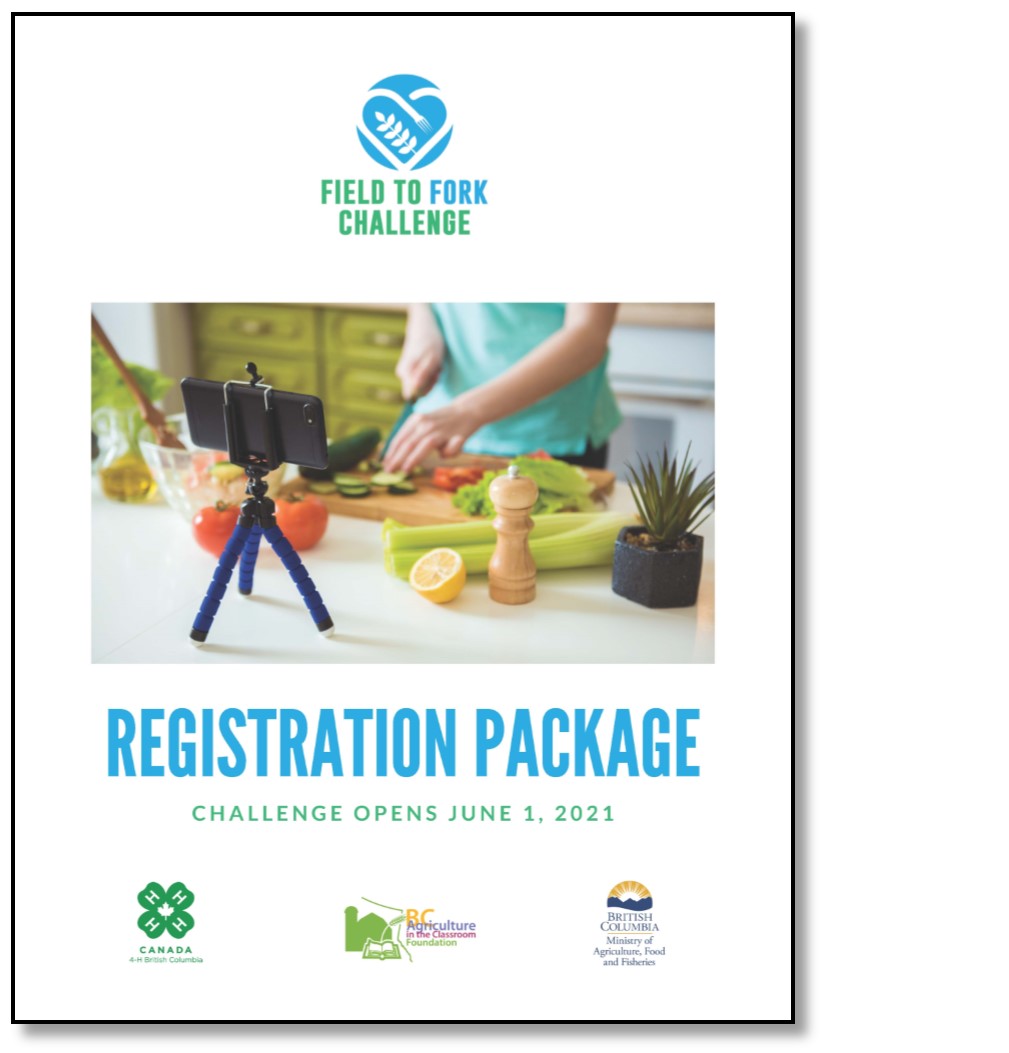 Students, submit your BC grown recipes and demonstration video along with the 2021 Field to Fork Registration Package now!  Only one submission per person. Participants must be clear on which category they wish to be judged. Deadlines noted above; late or incomplete entries will not be accepted.  See package for full entry details.
$6,400 in Cash Prizes and More
There are 10 cash prizes available in each of the above-noted categories (total 40 prizes):
1st Place: $400
2nd Place: $300
3rd Place: $200
4th to 10th Place: $100 each
In addition to winning cash prizes, top-placing entrants will have the chance to attend the Field to Fork Challenge Virtual Conference on November 13, 2021. Conference attendees will cook BC grown recipes under the expert instruction of Chef Trevor Randle, enjoy virtual farm tours, learn about BC agriculture from farmers in the field, and enjoy other fun activities. Recipes from top-placing entrants will also be featured in the Field to Fork Challenge Recipe book, to be available in print and online for all to enjoy.
Check Out Last Year's Event
Last year's Field to Fork Challenge was a huge success! Participants had a chance to cook and form an appreciation for locally-grown agriculture. The Challenge entrants created an array of recipes from Hungry Hiker Skillet to Turkey Stuffed Zucchini Boats to Rhubarb Strawberry Pie. Watch the video below for a recap of last year's finalists and activities.
About
The 2021 Field to Fork Challenge is a joint initiative of 4-H BC and BC Agriculture in the Classroom Foundation with the support of the BC Ministry of Agriculture, Food, and Fisheries.
For more information on Field to Fork submissions, contact Lauren Best at 4-H BC at Lauren.Best@gov.bc.ca. 
Spread the Message
Help us spread the message of the Field to Fork Challenge and inspire more BC youth to enter this educational agriculture and food initiative. Download this flyer and share with your students, children, and community!