The Bug Girl (A True Story)
 

 

In conjunction with Canadian Agriculture Literacy Month (CALM), BCAITC is delighted to present The Bug Girl, a True Story! This book, written by 7-year-old Canadian Sophia Spencer and Margaret McNamara, is a charming and educational book for young readers, classrooms, and homeschools alike. Sophia was bullied for loving bugs until hundreds of women scientists (entomologists) rallied around her. Sophia tells her inspiring story in this storybook that celebrates women in science, bugs of all kinds, and the importance of staying true to yourself.  

Sophia Spencer has loved bugs ever since a butterfly landed on her shoulder--and wouldn't leave - at a butterfly conservancy when she was only two-and-a-half years old. In preschool and kindergarten, Sophia was thrilled to share what she knew about grasshoppers (her very favorite insects), as well as ants and fireflies, but by first grade, not everyone shared her enthusiasm. Some students bullied her, and Sophia stopped talking about bugs altogether. When Sophia's mother wrote to an entomological society looking for a bug scientist to be a pen pal for her daughter, she and Sophie were overwhelmed by the enthusiastic response - letters, photos, and videos came flooding in. Using the hashtag #BugsR4Girls, scientists tweeted hundreds of times to tell Sophia to keep up her interest in bugs - and it worked! 

Find the hardcover version of The Bug Girl (A True Story) at Amazon, Indigo, or at independent bookstores near you. E-book available on Kobo, Google, or Apple Books.  Happy reading!
Q&A with Sophia Spencer
Q: How did your love of bugs result in a book?  A: My story about being bullied for loving bugs went viral, and I was then asked if I would write about my experiences with bullying for being different. The publisher paired me with the co-writer, Margaret McNamara and the illustration duo who made the pictures.
Q: What was the challenging part of writing the book? A: I would say the waiting part: for it to all come together and actually be a book!
Q: What was the most rewarding part of the writing the book? A: Getting to share my story with other kids who might be bullied for the things they like. And knowing it might help someone else, knowing they aren't alone.
Q: Have you discovered any new bugs since writing The Bug Girl? A: I discover new bugs all the time, but my favourite are still grasshoppers.
Q: Are you working on any new books or writing adventures? A: Nothing new. Just enjoying being a kid.
Q: What would you like to do in the future as a career? A: I know I want to work with animals in some way. But I haven't decided what exactly I want to be.
Q: What advice do you have for young writers? A: Keep going and don't give up!
Must-Watch Video

Sophia introduces The Bug Girl in this short video clip below!

 

Thank You

Thank you to our friends in learning - the Entomological Society of British Columbia and Munro's Books - for donating 500 units of The Bug Girl to BC classrooms participating in BCAITC's Spuds in Tubs program. 

Join our Ag Reading Challenges

To celebrate CALM, be sure to sign up for our Ag-Reading Challenges and log your reading of The Bug Girl (or any book) into our online tracker this March! With the Ag-Reading Challenges, you can have discover new books, learn, have fun, and collect cool badges, and win prizes!

Extend the Learnings

Pair reading The Bug Girl book with the BCAITC lesson plan 'Invent a Bug' (for grades K-3 and grades 4-7) to extend the book's learnings to Science, Art, and other classroom subjects. 

Love Agriculture?

If you love agriculture, click here to find more educational K-12 books about everything from bugs to farming to food, the environment, and beyond! 

 
About CALM
The 10th annual Canadian Agriculture Literacy Month (#CALM2021) takes place in March 2021. This coast-to-coast national program encourages K-12 students to learn about and celebrate Canada's incredible agriculture and food story all month long. By connecting classrooms and homeschools with engaging resources, programs, and initiatives, students learn first-hand about Canada's food and agriculture systems.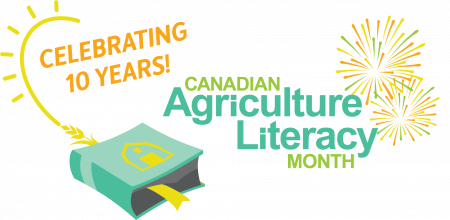 Like this Post!
Did you enjoy this feature? Share it with the social media icons located at the top of the post.  Be sure to use hashtags #BugsR4Girls, #ReadAg, #CALM2021, and #bcaitc.