Subject
Food Studies
Sustainable Agriculture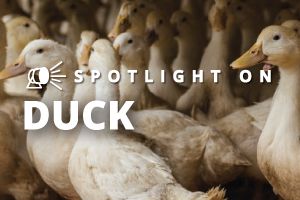 The Spotlight Series on Duck is a multi-faceted tool that includes the following resources:
Activity: A curriculum-linked Jeopardy-style educational duck game accompanies the video about the duck story from farm to kitchen.
Recipes: Students can fine-tune their culinary skills while making duck recipes like Ground Duck Asian Lettuce Wraps (pictured below) and Whole Roasted Duck (pictured at bottom of page).
Grow BC: Students can explore Grow BC, an interactive GIS resource, to learn the story of ducks. From where and how ducks are farmed, this resource provides straightforward integration into class curriculum.