Canada Career Month - November 2021
It's Canada Career Month and we are excited to be able to talk about agriculture and food careers all November long! Canada Career Month is an initiative of the Canadian Career Development Foundation, and for the first time ever, BCAITC is joining the fun!
BCAITC, in conjunction with Agriculture in the Classroom Canada, is introducing some exciting new agriculture and food career initiatives this month. We are also highlighting some of our most popular existing career resources.  Together, we are offering a wide range of career activities for teachers and home educators to use in the classroom and online with intermediate and secondary level students.
Highlights of the Month
30-Day Challenge
To kick off the fun, we're challenging classrooms to complete our thinkAG 30 Day Challenge! We've put together an exciting, month-long calendar to encourage your students to find their purpose-driven career.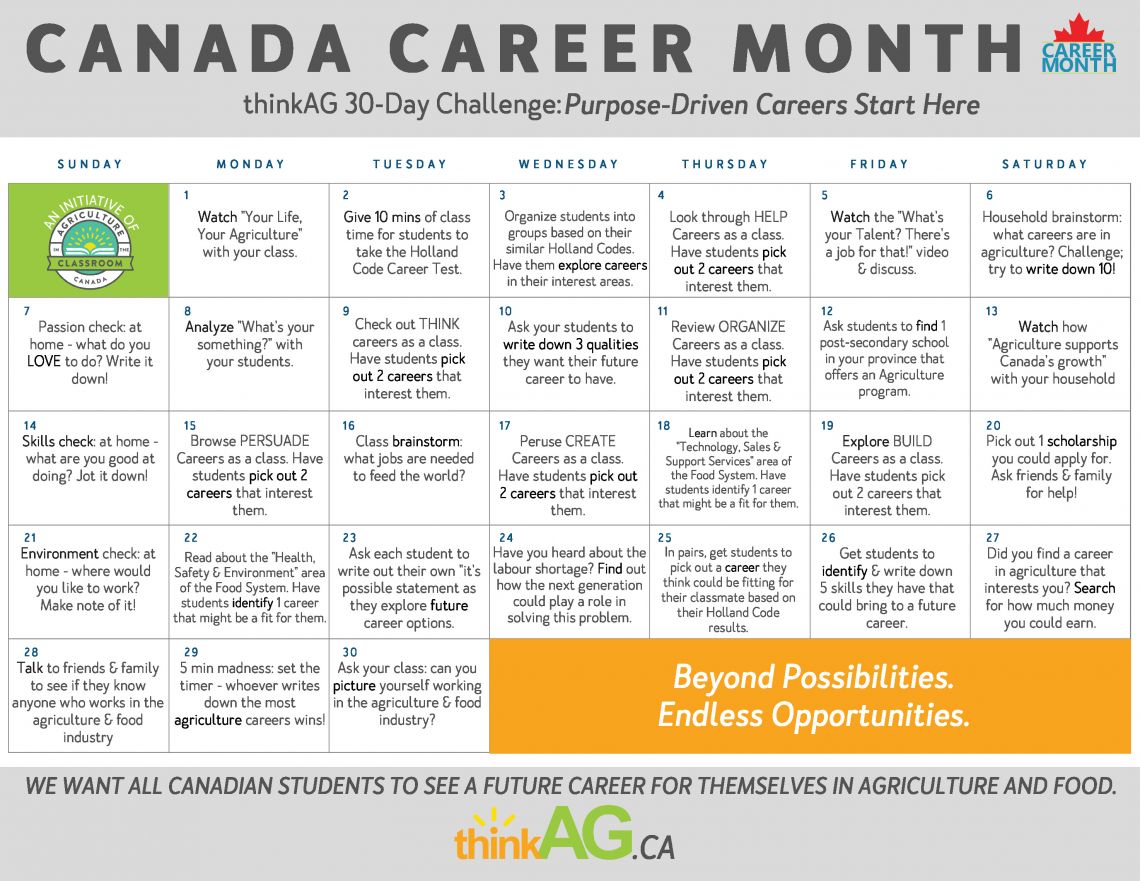 Career Case
Educators can order a new career resource game – Career Case - for delivery right to your classroom! This resource shows the diversity, variety, and importance of agriculture careers while supporting students in recognizing how their skills and interests can fit into agriculture and food careers. 
thinkAG
The thinkAG website is a one-stop-shop for learning resources and experiences to ignite interest in agriculture and food career journeys for students in grades 5-12. Using Holland Code theory, thinkAG offers insights to jobs tailored to their interests and personalities, this site will help them find their purpose-driven career. 
BC Career Profiles
Find profiles of BC-specific careers in agri-tech, land-use management, sustainability, and more courtesy of Agrilyze and BCAITC on the Careers in Agriculture page on www.bcaitc.ca. Students can use the profiles to discover exciting jobs in our province like Food Scientist, Urban Farmer, Drone Operator, and more.
Fields for your Future
For more classroom interaction, teachers and home educators can order free Fields for Your Future posters and brochures that outline a wide variety of exciting career paths in the agriculture and food industries.
Kareero Pilot Announcement
During Career Month, AITC-C is piloting an interactive self-interest assessment app with teachers and students, called Kareero! Kareero offers an immersive experience where students are faced with developing a garden. Through their choices and actions, their interest areas are determined. Paired with the thinkAG website, Kareero will help students explore careers that match their interests.
It's Possible
The theme for this year's Career Month is "Its Possible". Educators can start conversations with students with "It's Possible" statements: "It's possible to transition a summer job in a greenhouse to a long-term position", "It's possible to start your own business as a small-scale farm market operator", "It's possible to obtain post-secondary education to make your dream ag-career a reality".
Students that participate in our month-long celebration can learn how to access meaningful work in agriculture and food, how to connect with their preferred futures, and how to transition into the emergent labour market. They can learn how to make a rewarding career a reality!
Spread the Message
Use the #CareerMonth hashtag to post your classroom interactions online. Plus, follow our BCAITC social media all month-long for a sneak peek at upcoming career resource releases.