Fresh Flavours Cooking Series for BC Greenhouse Veggie Days
In a recipe rut? With summer just around the corner, now is the perfect time to freshen up your recipe repertoire and incorporate new ideas! BCAITC can help! BCAITC, in conjunction with BC Greenhouse Growers' Association, is pleased to present the new Fresh Flavours Cooking Series for BC Greenhouse Veggie Days.
A celebration of fresh, BC greenhouse produce, the cooking video series follows BCAITC's celebrity Chef Randle as he makes an array of delicious dishes featuring succulent tomatoes, peppers, cucumbers, and eggplant! Chef Randle infuses his passion for food education into his cooking instruction as he showcases his appreciation for locally grown foods. 
The series features six tasty recipes and corresponding instructional videos below; share them with family and friends to enjoy nutritious meals and learn about healthy cooking.   
Be sure to try these recipes and post photos of your finished dishes on social media with the hashtage #bcaitc. Be sure to tag us at @bcaitc on Instagram and Twitter and at @bcagintheclassroom on Facebook. Happy cooking!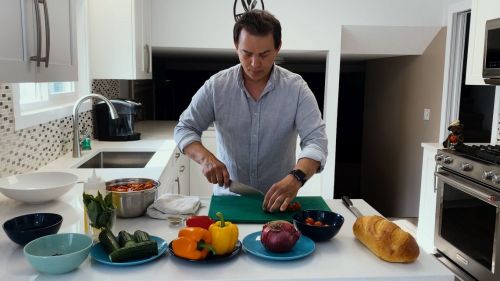 To find out more about the locally grown vegetables used in this recipe, view this Adventure at the Greenhouse video and this BC Greenhouse Veggie Days Classroom Tour video.